Unlike quick substitutions for ingredients you're missing, there are no instant fill-ins for an oven not heating or a stove burner that won't light. In cases such as these, the safe thing to do is contact the oven repair technicians at Hudson Appliance Repair & Removal right away. Since 2012, local homeowners have been making us their Lincoln Park choice for oven repair, stove repair, and other cooking appliance services. Whether you're preparing food for an everyday meal or a holiday feast, you need an oven repair service you can call on for dependable help at reasonable rates. Put us on your speed dial today!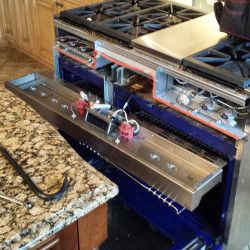 You never know what kind of problem you might encounter with your cooking appliances. Situations can vary from basic oven door repair to more serious issues where your oven won't turn on, or even worse, your oven won't turn off. That's why it's best to bring in our trained professionals to address your concerns from electric oven repair to gas stove repair to flat cooktop repair and so on. Thanks to our 10 years of experience, we're able to quickly diagnose problems and then service or replace vital components, including:
Heating elements
Cooktops
Door gaskets
Oven thermostats
Displays
Pilot lights
Ignitors
Fuses
Door hinges
And more!
Even a seemingly minor defect such as an odd noise coming from your stove could be an indication of bigger problems ahead. So why not prevent larger and more costly oven repairs by reaching out to Hudson Appliance Repair & Removal at your earliest convenience? We specialize in both gas oven repair and electric oven repair, and we stand behind our labor and parts with 90-day warranties. Plus, we're qualified to work on a wide array of makes and models, including high-end brands like Miele, Wolf, and Thermador. Depending on your specific circumstances, we may even be available for emergency oven repair service. Safety is always a concern when it comes to oven repair and stove repair, and we want you and your home to be protected.
Oven Installation
When you're interested in having new cooking equipment installed, there's really no substitute for licensed and insured technicians with the proper skills. Luckily, the team at Hudson Appliance Repair & Removal extends our expertise to your residential needs for oven installation, including wall oven installation. You can expect exceptional results when you come to us for your oven install services. In addition to electric oven installation and gas oven installation, can we also help with over-the-range microwaves and vent hoods. We have your kitchen covered when it comes to new oven installation or oven replacement. We'll even take away your old appliance as part of our oven install services.
Whether you live in Vernon Township, NJ, or Warwick, NY, you can put your trust in Hudson Appliance Repair & Removal to keep your oven, stove, range, and other cooking appliances working the way they should. Call us in the Lincoln Park area today for details and timely appointments for range repair, oven installs, and more!