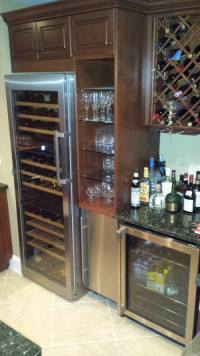 Is your home refrigerator not cooling properly? This is one of many refrigeration repair situations we're fully prepared to handle at Hudson Appliance Repair & Removal. Whether your residential fridge or freezer is acting up, don't hesitate to get in touch with our refrigerator repair technicians. We've been in the refrigeration repair business for more than 10 years, and we provide complete service for fridge/freezer repairs, installations, and professional maintenance. You don't want anything interfering with the performance of the refrigerator or freezer in your kitchen. Call us today for refrigerator repairs that are fast, affordable, and above all, accurate!
Because of the risk of food spoilage, speed is of the essence when it comes to refrigeration repairs. Be sure to contact our efficient team at the first sign of a problem. In Lincoln Park and beyond, we're at your service seven days a week for a wide range of fridge repair issues, including:
Refrigerator not cold
Excessive cooling
Leaking
Strange odors
Unusual noises
Too frequent cycling
Interior light problems
Failure to turn on
Ice maker defects
And more!
Thanks to our extensive knowledge and hands-on experience, we can take care of your refrigerator repair concerns in a timely manner. Not only do we service the vast majority of refrigerator makes and models, but we're also well versed in freezer and fridge malfunctions, common and unusual. That means our fridge repairs can usually restore the full function of your unit by changing out parts such as fan motors, control boards, compressors, coils, and other components. And don't forget: you can also depend on us to keep your ice maker running smoothly.
Fridge Repair & Maintenance Pros
When you have an issue such as a refrigerator not cooling, it's vital to get it checked out as soon as possible. Between the appliance itself and the food items inside, you have a lot invested in your household fridge. At Hudson Appliance Repair & Removal, we understand the need for speed when you call us in regard to fridge/freezer repairs or refrigerator ice maker repair. We'll do our best to get you on our schedule quickly, and we may even be able to help with emergency refrigeration repair requests. Of course, with all of our refrigerator repair services, you get the added benefit of a 90-day warranty covering both parts and labor. That's just one more reason to make us your fridge repair service in Lincoln Park. Contact us today over the phone or online.
Preventive maintenance can go a long way toward helping you avoid refrigerator repairs and extend the life of your fridge. That's another service we offer at Hudson Appliance Repair & Removal. Chances are your fridge coils and other parts could use a thorough cleaning and maintenance check. Schedule yours now!