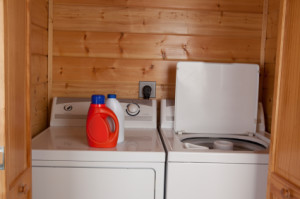 When you're trying to get the laundry done, the last thing you need is a broken washing machine. Whether you're faced with a washer not filling or a washing machine not draining, don't go rushing off to the nearest appliance store. It's far more convenient and cost-effective to pick up the phone and contact the washer repair pros at Hudson Appliance Repair & Removal. Day in and day out, we're available to provide precision workmanship on your residential washing machine repairs. Wouldn't you rather restore the unit you already own and save yourself a bundle? To set up your appointment for expert washer and dryer repair, call or e-mail us today!
Whatever the cause of your broken washing machine, you can bet our technicians have seen and dealt with it before. We service models from LG, Maytag, and beyond, and after 10 years on the job, we've worked extensively on washer repair problems from leaks to loud noises to troubles with a washer not draining. What it typically comes down to is being able to recognize what's wrong with your unit and knowing which replacement parts will make it right again. Leave it to us to zero in on your washing machine repair requirements, including the necessary replacement parts, such as:
Water pumps
Lid switches
Timers
Water level switches
Temperature switches
Water inlet valves
Drive belts and pulleys
Motors
And more!
Without a doubt, unexpected washer woes can be incredibly frustrating. But opting for washer replacement over washer repairs will only take longer and cost more. In Lincoln Park and beyond, follow the sensible approach that other local homeowners have been taking for years: Call on our washing machine repair specialists at Hudson Appliance Repair & Removal. For residents in Vernon Township, Warwick, and anywhere else in our service area, we can step in and help with our durable washer and dryer repair solutions at reasonable prices. We even go the extra step to cover your washing machine repair service with 90-day parts and labor warranties. In short, your dollars go further with us!
Washing Machine Installation
In addition to servicing your broken washing machine, Hudson Appliance Repair & Removal is also available to assist with professional washer installation. If you do decide the time is right for a new washing machine or you're buying your very first washer, we'd be glad to help you ensure the peak performance of your appliance by getting it carefully installed and ready to go. Our washer hook-up services are a small price to pay to make certain all of your water, drain, and electrical connections are secure. We invite you to call us for Whirlpool washing machine installation, Kenmore washing machine installation, or whatever make of washer you need installed. We're happy to work on all brands of washing machines for repairs and installations alike.
When hiring any kind of home service provider, it's always a good idea to choose licensed and insured professionals. Regardless of if you need washing machine repairs or washing machine hook-up, you can rest assured that we're qualified experts you can trust. Give us a call today!