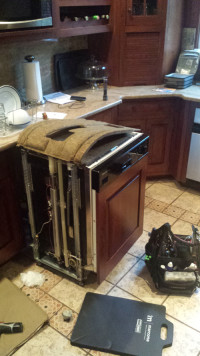 Nobody enjoys the extra kitchen cleanup that a broken dishwasher brings. But running out to buy a whole new dishwasher won't do your bank account any favors, either. When you're looking for an efficient and economical approach to dishwasher problems, look to Hudson Appliance Repair & Removal for solutions that work. Serving Lincoln Park homeowners since 2012, we're a local dishwasher repair company that's dedicated to careful workmanship and true customer service. If you're stuck with a dishwasher not draining or some other broken dishwasher issue, skip the trip to the appliance store: Call on us instead!
Being without your household dishwasher isn't simply a matter of convenience. Under normal conditions, a dishwasher uses hotter water temperatures than hand washing, making it a matter of cleanliness as well. Be sure to contact our family-owned business whenever you find yourself needing dishwasher repair service. With a decade of experience to draw on, our technicians can resolve a number of common dishwasher problems, including:
Dishwasher not draining
Dishwasher clogs
Leaking dishwasher
Failure to start
Stuck-on food
Unpleasant odors
Strange noises
And more!
Regardless of what brand of dishwasher is in your kitchen, Hudson Appliance Repair & Removal is fully equipped to tackle your dishwasher repairs. We span the industry when it comes to dishwasher repair service, fixing both mainstream and high-end brands. That means you can count on us for dishwasher service on units from Bosch to Frigidaire to Whirlpool and more. Whether your dishwasher won't drain, has sprung a leak, or won't turn on at all, we can run complete diagnostics and replace any worn-out parts. A new heating coil or better drain pump circulation may be all you need to restore the full function of your dishwasher. We even back our dishwasher repair labor and parts with warranties good for 90 days. We want you to be satisfied now and in the long run!
Dishwasher Installation
When it does come time for new dishwasher installation, we'd be more than happy to help. At Hudson Appliance Repair & Removal, we're just as adept at dishwasher installation work as we are at dishwasher repairs. While we strive to protect the investment you've made in your current dishwasher, we also want to make certain any new dishwasher install you require is done right the first time around. From GE dishwasher installation to Kenmore dishwasher installation, our licensed and insured professionals are here to see to every detail of your home dishwasher hook-up. That includes appliance haul-away service if you're replacing an old dishwasher.
Contact us today for dishwasher service in Vernon Township, Warwick, or wherever you happen to reside. As an experienced dishwasher installer and dishwasher repair company, we're the name to know in Lincoln Park and beyond!